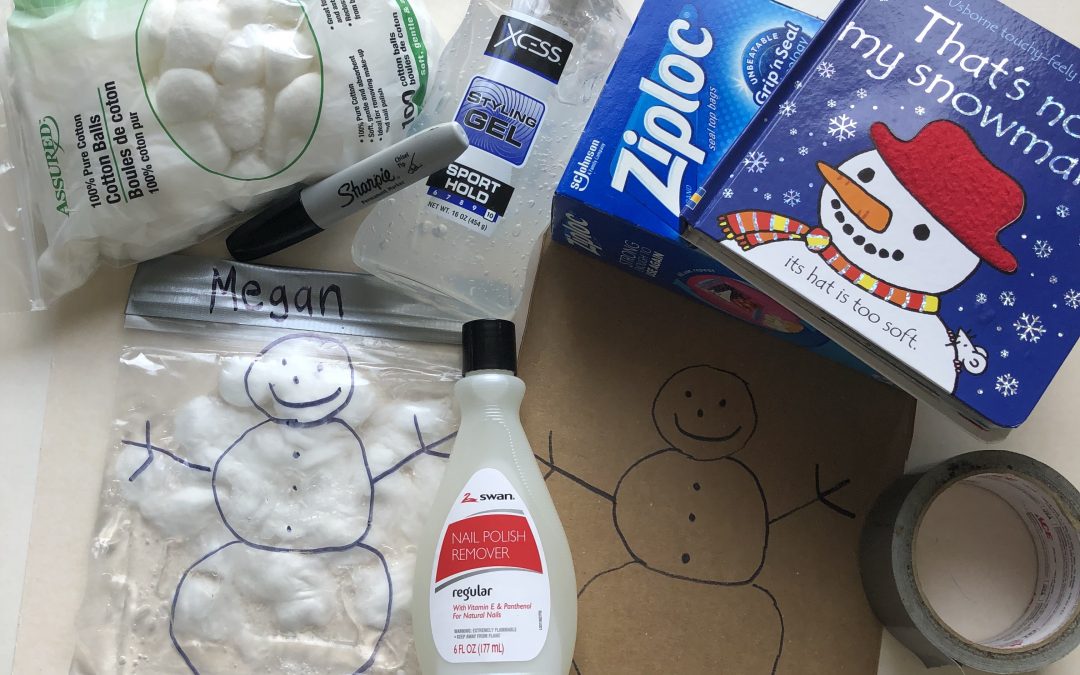 Storybook Sessions: "
That's Not My Snowman
"
In each Storybook Sessions post, I highlight a book that I have used, or plan to use in therapy as well as associated, extension activities that can be paired with the book to increase vocabulary comprehension, provide opportunities to express yourself verbally, written, creatively, etc., sensory exploration, fine motor practice, gross motor movements, etc. Some extension activities will focus on all of these components while others will focus more specifically on one area. Books and all materials are linked as well to provide easy online shopping so you can easily gather materials to replicate these activities and enjoy them yourself. (Simply click on the title of the book and/or material listed and you will be redirected to an opportunity to purchase and/or learn more)
Author: Fiona Watt
Illustrator: Rachel Wells
This book, like the others in the wildly popular, "That's Not My…" series, features various textures and sensory elements via touchy-feely patches on each page. The story line also features a simple, repetitive text: "That's not my snowman, it's ____ is too ____." This repetitive line promotes basic, emergent literacy and language skills for readers, providing multiple opportunities to see and hear familiar words which will in turn, increase their comprehension and recognition of these repeated words. The various items that are featured and described in the repeated line are those that contain the different touchy-feely patches on each page (e.g., "…it's hat  is too soft."). Featuring and describing these items provides the reader with opportunities to increase their receptive vocabulary through identifying the labeled items (nouns) as well as describing how they feel (adjectives). 
As readers become more familiar with the text and associate the feel of the various sensory elements with the descriptive vocabulary provided, they will have the opportunity to use this vocabulary in their own expressive communication as they read the book and/or describe various items they interact with throughout their day. An added bonus for students who are emergent language and literacy learners, who may also be using Augmentative and Alternative Communication (AAC) is that this book is full of core vocabulary that can be modeled on a communication device/system. Examples of core vocabulary within the book include: "that", "not", "my", and "it" as well as the multiple opportunities to model "turn" for turning the page, "help", "feel" for exploring the touchy-feely patches, "you" and "I" and so many more!
As you can see, there are so many reasons that this book is a no-brainer to use within my language therapy sessions but it's a great book to read with any emergent reader and language learner to help build and refine their literacy and language skills. Reading books like this become even more fun when you pair reading with a fun, sensory based extension activity like these fun sensory snowmen.
Simple, cheap and fun = win, win, win!
Sensory Snowmen
All you need for this simple, fun, sensory extension activity is:
Piece of cardboard – slightly bigger than your resealable zipper storage bag
Step 1:
Remove the label on the resealable zipper storage bag(s) with nail polish remover. (This really works – promise! I was a skeptic too but was shocked at how easy it was to remove!) 

Dry nail polish remover residue from bag.
Step 2:
Draw a template of a snowman on a piece of cardboard using a permanent marker. 
Step 3:
Place resealable zipper storage bag on top of snowman template & trace onto bag with permanent marker.

You can also encourage kids to draw their own snowman on the bag – be creative! 
Step 4: 
Place a few cotton balls inside of the bag (number of cotton balls will depend upon how full you want your bag to be as well as how big your bag is).
Step 5: 
Squeeze hair gel into the bag until cotton balls are able to be pushed around when in contact with the gel (again, the amount of gel needed will depend upon the size of the bag as well as how many cotton balls were used – not an exact measurement).
Step 6: 
Seal bag and reinforce with duct tape (may need to reinforce on both sides of seal to ensure closure). 
Step 7:
Use a permanent marker to label the bag with the name (of snowman or kiddo). 

Encourage kids to write their own name to practice emergent writing skills.
Step 8: 
Enjoy moving the cotton ball "snowballs" around within the bag to personalize the look of your snowman over and over again!

Re – read "

That's Not My Snowman"

 again – while students play with the sensory snowman bags that they just created!
There are a lot of ways that you could personalize this activity even further, such as adding additional sensory elements to the bag such as sequins, small snowflake confetti, glitter, etc. – Have fun and be creative!
If you create Sensory Snowmen bags with your students, I'd love to see them! Share pictures in the comments here or tag me (@senseableliteracy) in your posts online!
Until next time – Happy Reading!